PROJECT


daisy insurance

Daisy is an AI company that analyzes massive amounts of transaction and operational data to help retailers and insurance companies make better operational decisions to improve their business.



Insurance Ranking Screen



---
OVERVIEW
first thing's first, you have to set the context
Over the span of 8 weeks, I worked with the Daisy Insurance team to design features that made it easier for investigators to manage their clients' information on the platform, with a focus on Alerts and Triage Sheets. I was the main designer of this project and I collaborated with the PMs and engineers to establish design requirements, build wireframes, and prototypes for design critiques.
---
PROBLEM
what's wrong?
Old UI


Minimal user regard
The team recognized that the current webs platforms have been built out of necessity by engineers, with minimal regard for design and user adoption.
Without close and frequent collaboration between designers and engineers, designers risk not having their research implemented or end up designing for looks rather than functionality, while engineers may find features infeasible for development.
Outdated Interfaces
A lack of platform consistency with design elements may cause friction to users when they expect the platform to act one way but have it act a different way. Additionally, the overall UI isn't the most welcoming or modern, which hinders the ability of investigators to quickly scan and comprehend the information that is presented.
Information Overload
Being exposed to an abundance of information at once can negatively impact employees' performance and wellbeing at work.
---
DESIGN GUIDELINES
how do we scope and define the project?
How might we redesign a product that increases the efficiency of insurance investigators as they manage large sets of data?
Our mandate was to create a simple, intuitive, and modern user experience that allows SIU and claims handling teams to execute their work in less time and make it easier to understand the outputs of the system.
Goals

1

Efficient Work
SIU and claims handling teams can execute their work in fewer hours per day
2

Flattening the learning curve
Employee onboarding is easier because outputs of the AI system are comprehensible.
3

Logical and Clear Navigation
The platform has a clean and consistent interface for employees to navigate through.
---
PROCESS
here's how it's done
Key takeaways from competitor research
Tables efficiently lay out data (case management, detailed reports, dashboards)
Filters allow investigators to connect multiple subjects to a single case or vice versa

Dashboards provide managers and executives visibility into investigative team throughput, fraud savings and usage of the platform.
Dashboard Sketches





---

SOLUTIONS


here's what really happened

It's important that the insurance platform should be equally accessible for all investigators. I updated 3 features: Information Architecture, Table Filters, and Card Design to help investigators increase their efficiency and proficiency on the platform.


Restructured Information Architecture
To increase the logical flow of information throughout the platform, I created vertical and horizontal navigation bars for investigators to find the information that they need to get the job done quickly.
Navigation Bar (Before)



Navigation Bar (After)





Prioritized and Hidden Table Data

To reduce the information overload for investigators, I proposed reducing the data table layout into a condensed version that displays only the most important information, with a pop-out card that opens to show more details when prompted. Additionally, the table filters are hidden away within a drop-down tab to reduce clutter.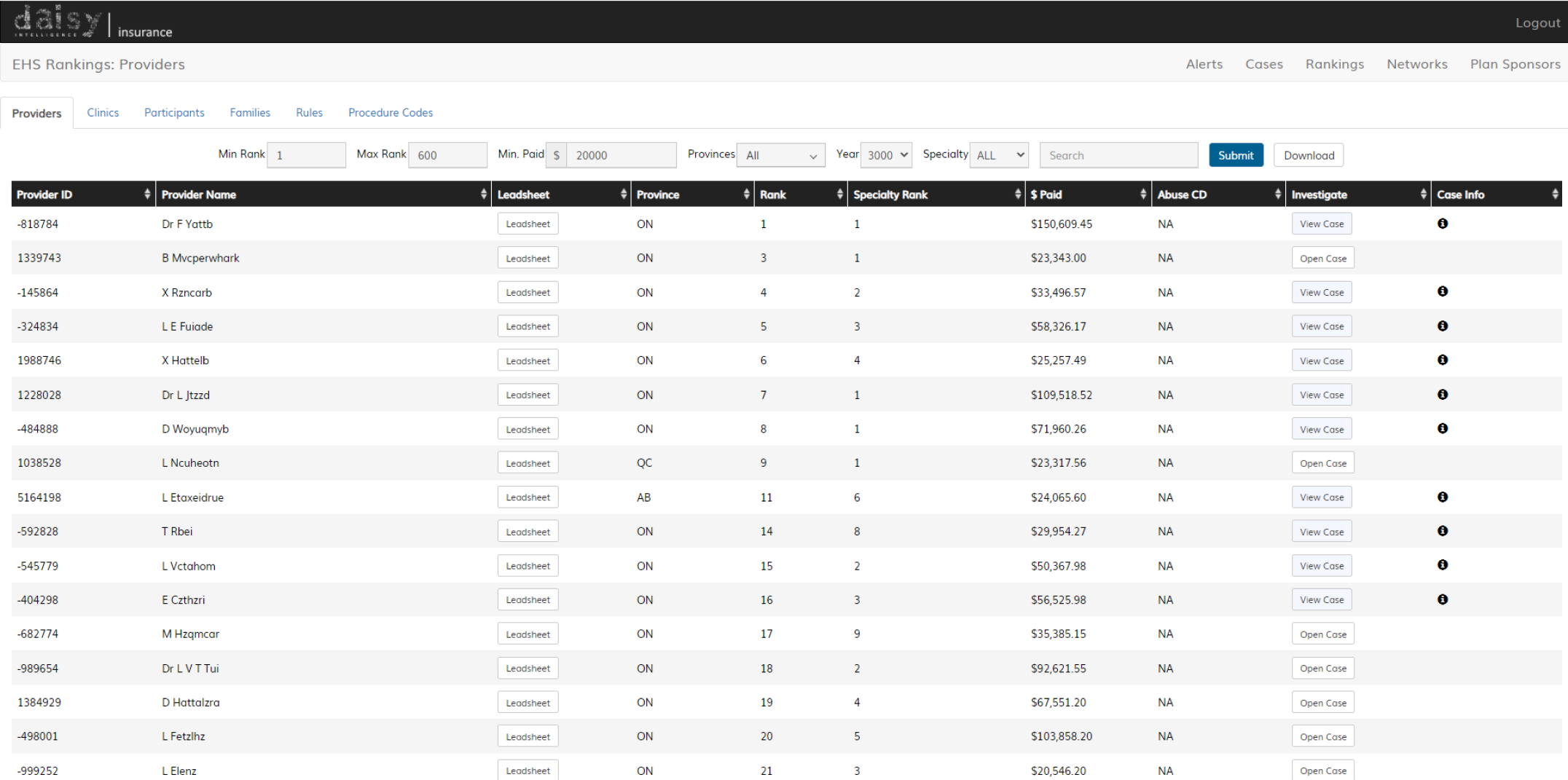 Tables and filters (before)




Hidden tables and filters (after)


Card Design Implementation
To increase the consistency and modernity of the UI design elements, I sorted the information into cards. The clean design makes development and scannability easier when Daisy ultimately moves the platform to other devices.
Dashboard (before)


Dashboard (after)




---

CHALLENGES AND CONSTRAINTS


not everything went our way...

During the critiques with the PM and developers, we ran into some security issues - some of the designs I had created were too idealistic and would potentially comproimse the security of users. There were many nuances to consider when designing (eg. what columns in the table are priority for investigators?). Asking questions and checking the feasibility of my designs with the team was essential for scoping the project.

We are not our users, which is why getting feedback from them is so important.



---

KEY TAKEAWAYS & NEXT STEPS


what did i learn?

Designing with users is the first step to effective design

This first internship taught me the importance of working with people that actually used the platform so that I can better understand their pain points and work to reduce those issues - It's important to ask questions and listen to those that are directly impacted by our designs. Designing with users in mind should always be top of mind.

Integrate features that compliment the existing platform

It was important for me to create features that were familiar to current users. Change is scary for everyone so if the application looks completely different one day, many of the users would be startled. Although some of the proposed designs were more ambitious, it's good to reframe it as a future destination that Daisy will work towards.

If I had more time

I would user test the solution with insurance investigators to see what other issues were non-intuitive to them. I would also try to work on pages other than the Ranking and Alerts pages to see what other opportunities I can pursue.